so… since the Crochet Me Book will be available soon,
you can actually pre-order it from Amazon!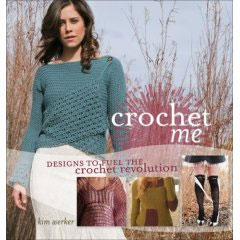 (that's my design, bottom middle)
i thought i would share some of my process sketches and photos
1.

here is my first sketch of the sweater pattern
2.

this is the first "swatch" with a yarn i did not use for the pattern… i was looking for a yarn that had a nice drape horizontally… the pattern is crocheted from side-to-side, so instead of the normal "stripes" that go horizontal, the work is rotated so that the lines are vertical…
3.

i ended up getting great stretch in the fabric with RYC Cashsoft DK … a surprisingly affordable merino, microfiber and cashmere blend
4. here's the part where i ripped and ripped and ripped, trying to find the perfect stitch for the pattern… it was more fun than it sounds!
5. time goes by
-crochet pieces get finished
-assembly is taking place
-math is being done
-and countless hours of double checking
6.

voila! perfect stitch found, assembly done

these are the photos i sent for pre-approval, along with some schematics i had to draw out
7. i then had to send the sweater (oh god, this is where i was in total panic, my hard work was going out the door, never to be touched again… but i DID get to touch it at the TNNA show where it was on display at the Interweave Press booth!) with all the sizes mapped out… i think i double checked my work about 20 times, sweating the whole time.
8. then a sigh of relief as my sweater was well received and going to photography
9. oh yeah, then sit and wait for the book to come out!
it really is the BEST crochet pattern book, i saw many at the tradeshow and the Crochet Me one out-shined them all… totally wearable designs, trendy, GORGEOUS photography… anthropologie style
Kim Werker of crochetme.com is the one who put this all together… she not only contacted all the designers and made the book happen, she was there along the way to help out, she made sure the book lived up to her standards… i can't say enough… she rocks!