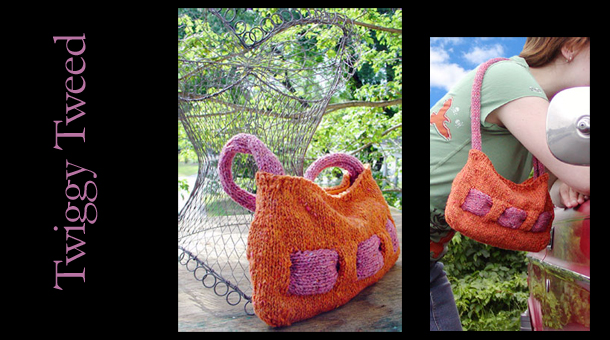 "twiggy tweed" sightings

so the new issue of knitty is online, and my pattern "twiggy tweed" goes into the archive…
which also means i get to use the pattern wherever i want to, post it online, get it published…. hmmm…
and speaking of, i found some bloggers who knit it!
check it out!
Sparkley Knitting Needles – Oct 27th post
A Stitch in Time  - Sept 16th post
The Twisted Knitster – Oct 10th post
Neveth's blog – Oct 3rd post
the purse also got into the knitgeek squidoo… have you tired squidoo?   it's really fun, you find alot of cool things on that site…
it got some bad reviews too!   check this one and this one…
hahaha, yes, i do hate i-cords, they're messy,
and a curled stockinette (in my opinion) is more interesting to look at….
i also like this post, in which i have a "hot ass t-shirt"… yes!   ;-)
and of course i LOVE being mentioned on the Punk Rock Knit Girls blog, even if its just a comment
a little more on the design of tiggy tweed… i wanted to make something fun to knit… sure, it's not totally practical as a purse, but i've been using mine on occasion to cart around my phone and wallet while shopping… not an everyday bag of course… the construction is really a blast, i even saw someone who did a felted version!