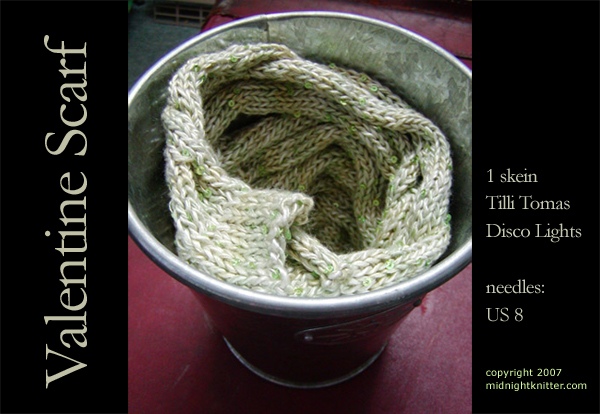 the wine red suitcase and aluminum bucket
the disco lights scarf is done!
. . . . . . . . CLICK HERE FOR THE FREE PATTERN . . . . . . . . . . .
well, it's been done for a while but i lost the scarf, found it last week ;-)
pattern coming soon
i also started working on a scarf in the new Black Pearl Cashmere DK yarn.
this stuff is SO soft, and really affordable for cashmere.   it has a superb halo.
looks great on US 6 needles or smaller.
hey!   did you hear about the Knitty Gritty marathon on the DIY network?   instead of watching the superbowl you can catch a marathon and knit-along, hosted LIVE.   they are trying to get everyone to knit 7″ x 9″ swatches to make into blankets for the needy.
click here for more info
also at the above link… did you know that the videos on that DIY website are awesome?!?!   there's a really great one about making bobbles if you've never tried it before.

so anyway, i got started early   ;-)
here's my first 7×9 to mail in… i had some light gauge yarns lying around and combined them together, using seed stitch and some cables and US 6 needles, wah lah!



look at that AWESOME mohair halo from the Karabella Lace Mohair, eek!   that yarn is like THE carry-along yarn of all time.. love it