Other Stuff

bandwidth thief
Read about using images and photos on your blog.
.
.


free blog buttons!
click above to get free buttons for your sidebar
.

cat bed crochet pattern
A free crochet pattern I designed for the cat-bed knit-a-thon
.

knitting rock-along 2003
Intarsia design of the rock symbol, made by me, check out the others too!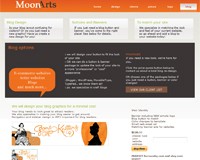 click here for blog buttons
Do you need a button for your blog?
I am "MoonArts Web Design" as well as being a yarn-store-owner and pattern designer.
Everything from little blog buttons to e-commerce websites.
see all the buttons i've made for others