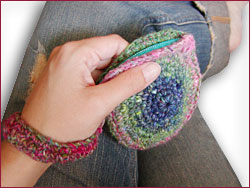 i made yet ANOTHER money purse, one of my favorite projects… i think i can share the pattern here, i wrote it up for the DIY show, but i think you're "allowed" to publish the patterns anywhere.
 

  two scarves!  
it's hardcore knitting season coming up and i figured i'd start with the gool old scarf…   although i want to get back into my test knits.. and i already started one with some Bamboo yarn…
the pink  one is a simple cable pattern… i love this color of Karaoke
the purple and blue  one is crochet.. worked on the bias to make the striping work up at an angle.. then i weaved some leftover yarn into the edge… Gianna thinks it rocks   ;-)
both pattern available at kpixie!!   click here for the pattern page
 
and i can't believe summer is over!   there's so much i wanted to do yet didnt have the time… my favorite season is fall anyways, so who cares.. i dont like the heat… yesterday i realized i needed more t-shirts but couldn't find any at TJMaxx, all i found was new school clothes, ick!!