crochet – Pear FREE pattern
I worked up an Owl pattern for the Amigurumi class that I taught (which went really well by the way, first class I ever taught), and then decided to work up a cute little pear for the Holidays. If you haven't tried Amigurumi style crochet yet because you don't want to make toys, try your hand at this pear decoration, you'll get hooked on it!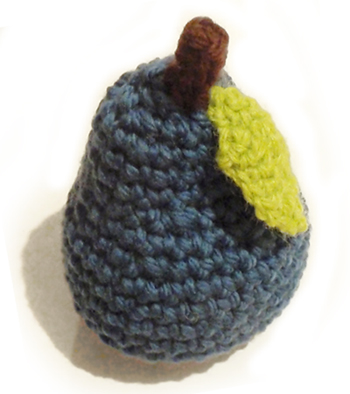 SPEAKING OF CROCHET
Here is my original carrot pattern!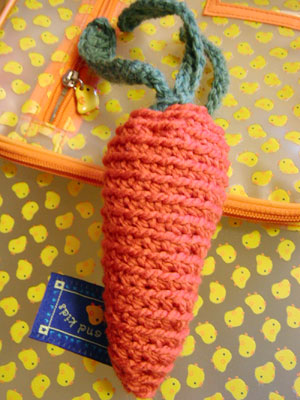 EASTER CROCHET CARROT
size H crochet hook
orange yarn: Bernat Softee Chunky yarn
green yarn: worsted weight
* to * means repeat
-ch 2
-4 sc in first ch
(from now on, work sc in back loop only)
working in a spiral, not turning work:
-1 sc in first sc, 2 sc in each of next 5 sc, turn inside out
-work *1 sc in next, 2 sc in next* 5 times, work 20 sc around,
2 sc in next
-work *10 sc around, 2 sc in next* 3 times, work 50 sc around,
2 sc in next
-work *12 sc around, 2 sc in next* 3 times, work 120 sc around
-work *skip 1, 1 sc in each of next 2* 8 times
-join green yarn
-1 sc in next, skip 1, 1 sc in each of next 2, skip 1, 1 sc in each of next 3, skip 1, 1 sc in each of next 3, skip 1, 1 sc in each of next 3
-close top by sl st crochet in every other st until closed,
do not cut yarn
-make greens by chaining 20 sts then working 5 dc, 3 hdc, then all sc along ch back to beginning, join to top of carrot, repeat until you have the desired amount of greens